Beautification with Branding: BBOP Center
Spotlight Project:
Time for Change Foundation/Black & Brown Opportunities for Profit – BBOP Center in San Bernadino, a beautification project of a building that will be the BBOP Center utilizing the organization's branding, color palette, logo, and theme
Materials:
Aluminum composite, Acrylic, Vinyl decal lettering, Exterior paint, Anti-graffiti & UV laminate, Standoff posts
HAPPY NEW YEAR! Commit to real change in your new year. 
A New Year means you have another 365 days to be the change you want to see in the world. As we prepare to start a new year, will we try to do better than the previous year? We are not talking about resolutions; we know they usually go by the wayside by February, but we are talking about committed change.
A new year starts when Earth has made one orbit around the sun, taking roughly 365 days. Every new year on the last day of December, we are at the same location around the sun as the prior year. Will you be in the same spot as you are now next year?
We were honored to meet someone who has been a part of a change for the last 22 years. Motivated by personal experiences, Kim Carter decided that change needed to happen one day. She set out to achieve just that because it was about time.
TIME FOR CHANGE FOUNDATION
Kim Carter is the founder of the Time for Change Foundation in San Bernardino, California. She struggled with life in this same city not too long ago. Kim had the ambition to return to San Bernardino to assist homeless women and children in achieving self-sufficiency by providing necessary supportive services. She is the "real deal." Kim has walked that path, and now she helps others see the light at the end of their situation.
Her center brings a voice to the unheard and unseen. The center's staff are true believers in the potential of the human spirit. They know that everyone deserves a nurturing and supportive home. Compassion, integrity, respect, and professionalism are just a few of the core values of this organization.
With Kim's guidance and energy, her team has a vision for creating a national role model for creating self-sufficient formulas that include health and wellness, well-being, trauma counseling, spirituality, and providing safe family environments. As of this date, they have helped over 2600 women and children to get off the street, find jobs and housing and keep their families together.
BLACK & BROWN OPPORTUNITIES FOR PROFIT CENTER – BBOP
Most recently, Kim Carter added an innovative business program looking for aspiring women entrepreneurs called "Black & Brown Opportunities for Profit," which, shortened, is BBOP. Women of the Inland Empire are encouraged to enroll in this first-of-a-kind program that will teach women the fundamentals of a successful achievable business. She knows that women are filled with brilliant ideas. Still, they need more opportunities and resources to realize those ideas. This 6-month hybrid, 3-step model led by industry experts is designed to give women of color access to resources to find their purpose and follow their dreams. Registration for this program closes on February 25th, so anyone interested needs to contact the center.
Be inspired to become a partner in change this year and make your impact felt by donating to this wonderful organization or another of your choice. We encourage you to "Give Life Back" somewhere, in some way, as giving always makes us feel so good.
A&I was honored when asked to help with Kim's vision of the BBOP Center that would make a vibrant impact on the community in San Bernardino. You might have driven by that plain white building on 599 N. Arrowhead Avenue. With A&I's collaboration, you will now see a beatification project that embodies the spirit of BBOP's branding and mission.
USING BBOP BRANDING COLOR PALETTE FOR BEAUTIFICATION
Color-Everyone has their favorite. It's part of their brand, logo, culture, and how they relate and want others to remember them.
The atmosphere of an office is infinitely customizable to the kind of work you do and the sort of values that your company holds. That's why color palettes, art, and space are all important factors in determining the right solution. Color helps create a distinct identity. You want to choose colors that evoke positive emotions, energy, calmness, or serenity. Color offers an impactful strategy to communicate a message without words.
Kim chose a vibrant color palette for the outside of the building, not just with paint. She added a stunning picture of a lady with flowing hair made of all the colors you can think of that welcomes yet evokes a powerful presence.
``THE LADY`` ALUMINUM COMPOSITE ARTWORK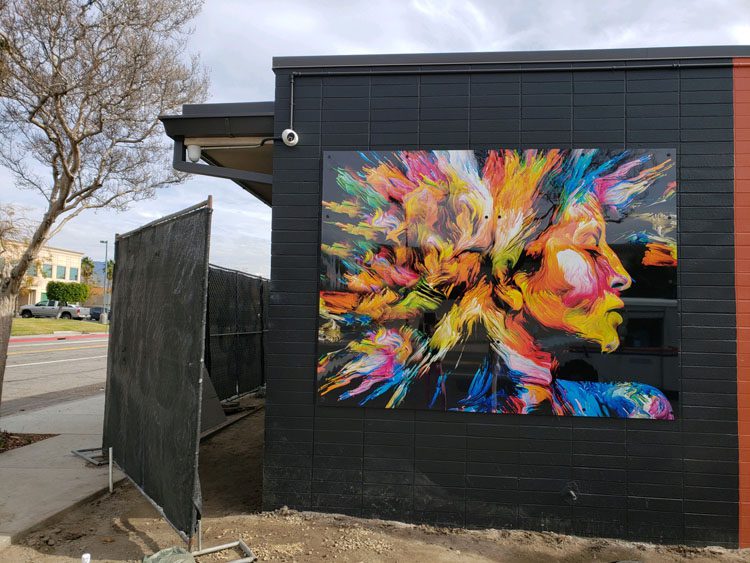 Once the building was painted in the custom color palette that was a specific mixture of red and orange, on a primary wall, approximately 12′ on the left side was painted black. This area was designated for an abstract art image we refer to as "The Lady." She came to life as a direct print onto 3mm Aluminum Composite/Di Bond material. "The Lady" measured a whopping 9 feet 8 inches wide by 7 feet 3 inches tall. The aluminum material made her vibrantly colored hair visually pop and glisten in the sun. The artwork was 1″ thick and mounted on the wall with black and colorized standoff posts to match the graphic. A coat of anti-graffiti and UV laminate was applied to "The Lady" mural to protect it from time and the elements.
BRANDING USING CUSTOM-DESIGNED ALUMINUM LETTERING FOR BBOP CENTER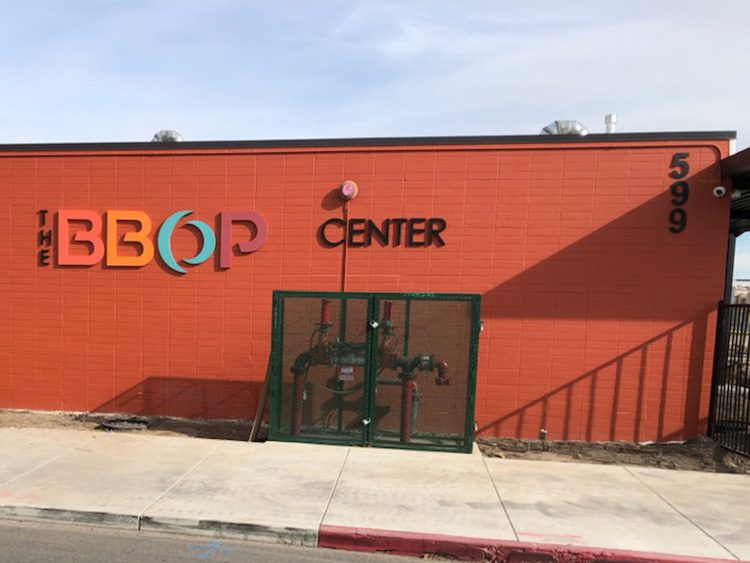 On the same outside wall, aluminum custom-formed "puzzle fit" letters 1.5″ in depth and 30″ tall spelled out "BBOP." These custom-designed letters had multiple pieces. Painted with industrial-grade paint with decolonization inhibitors for longevity. Each letter was outlined in black for bold enhancement and secured to the building with 3/8″ studs for durability. Custom letters in Century Gothic Font spelling out "The Center." They were 1″ in depth and custom formed from aluminum with a clear heavy-duty primer and painted black with auto grade industrial clear gloss paint.
EXTERIOR BEAUTIFICATION WITH CUSTOM GRAPHICS WINDOW PERF
A&I printed perforated window film for the outside windows with custom-designed graphics. The installation presented a challenge. Each window perf piece needed to be applied on the outside of the window but underneath a heavy metal grid that slides over the windows when the center is closed. Our A&I team is meticulous and was able to perform the install given the tricky conditions.
ACRYLIC COMPANY NAME SIGN IN RECEPTION AREA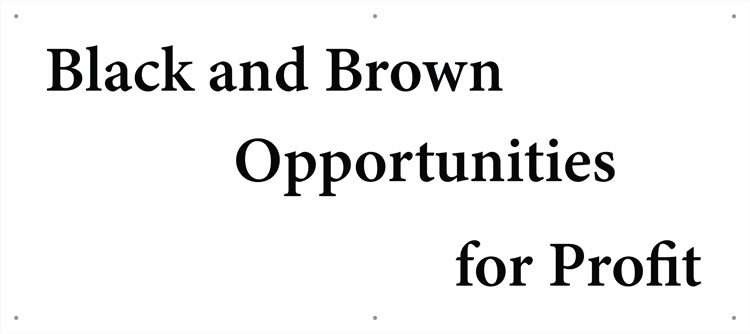 Moving inside, A&I printed an entrance sign on the back of a clear acrylic material. It spelled out the center's name, "Black and Brown Opportunities for Profit" (BBOP). A laminate was applied for an extra level of protection. The sign was attached to the wall with stainless steel standoff posts.
BBOP BRANDING LOGO: VINYL DECAL LETTERING
The colorful BBOP logo was printed as vinyl decal lettering adhered to ten interior walls welcoming all who entered.
Upon approval of the scope of work, A&I completed this project in only four weeks during a busy Holiday season. Of course, when installing graphics and signage outside, the weather may have other ideas, sometimes pushing your deadline. It all worked out, and A&I is privileged to have been a part of this beautification project with BBOP.
On our journey, A&I met extraordinary people like Kim Carter, and we are honored to share a little of her story. Please visit the Time for Change website and learn more about the BBOP center and the opportunities this organization provides to the local community of San Bernardino. You may know someone who could benefit from their services.
"A lit candle loses nothing when it lights another. Let the glow begin with all of us this year."