Commemorative and Memorial Walls
Acrylic Photo Display, Frosted Acrylic Plaque, Injection Molding Raised Letter
Client:
Muroc Joint Unified School District
Materials/Products Highlight:
Injection molding raised letter memorial statement, acrylic image graphic photo, aluminum stand-offs, frosted acrylic name plaque
Project:
Challenger Space Shuttle Memorial Wall
Commemorating History
As the new year starts, we often take the time to reflect on the past and look forward to the future. Each year in January, we celebrate Dr. Martin Luther King Jr. As a nation, through his life's work, we recognize that Dr. King inspires us to be a part of the dream, free of prejudice and becoming one people. In him, we remember and celebrate how one man touched the lives of many. We commemorate Dr. King's contribution by designating a National Holiday in his honor.
Eventful moments have occurred throughout history. Although tragic at times, we find ways to remember the people and events by decreeing National Holidays, erecting statues and monuments, naming schools, parks, buildings, and streets after them. In part, to forever immortalize their contribution, but more importantly, honor their place in our lives and history.
The Space Shuttle Challenger
In a recent project, A&I created a memorial wall honoring one of these historical moments for our clients. 2022 marks the 36th anniversary of the Space Shuttle Challenger disaster. The tragic accident in the United States space program occurred on January 28, 1986. On this unusually frigid morning in Florida, the shuttle was due to launch from Cape Canaveral, the Kennedy Space Station. Onboard the Challenger was Commander Francis "Dick" Scobee, Gregory Jarvis, payload specialist, Judith Resnik, mission specialist, Ronald McNair, mission specialist, Mike Smith, Pilot, Ellison Onizuka, mission specialist, and the first teacher in space, Christa McAuliffe.
Millions of Americans were glued to their televisions to watch the seven-person crew lift off into outer space that morning. Unfortunately, in a mere seventy-three seconds after taking off, the shuttle exploded in midair. In Ronald Reagan's eulogy, he summed up what all Americans were feeling, "We will never forget them, nor the last time we saw them, this morning, as they prepared for the journey and waved good-bye, they slipped the surly bonds of earth to touch the face of God." This tragic event and the crew involved, although gone, are never forgotten. They reverberate through our retelling of history and resonate through time, forever immortalized.
Commander Francis "Dick" Scobee
One crew member played a significant role in our client's history. Commander Scobee enlisted in the United States Air Force in 1957, where he served as a reciprocating engine mechanic at Kelly Air Force Base in San Antonio, Texas. While off duty, he attended San Antonio College and eventually received a Bachelor of Science degree in Aerospace Engineering from the University of Arizona in 1965. In the same year, he was awarded an officer's commission. Then in 1966, he attended flight school, earned his pilot wings, and served as a combat aviator in the Vietnam War. He received the Distinguished Flying Cross, the Air Medal, and other decorations.
After his tour of duty, Scobee attended the USAF Aerospace Research Pilot School at Edwards Air Force Base, 100 miles north of Los Angeles, California. Upon graduation in 1972, he became an Air Force test pilot, logging thousands of hours of flight time in dozens of aircraft, including the Boeing 747, the experimental X-24B lifting body, the F-111 Aardvark, and the gigantic C-5 Galaxy.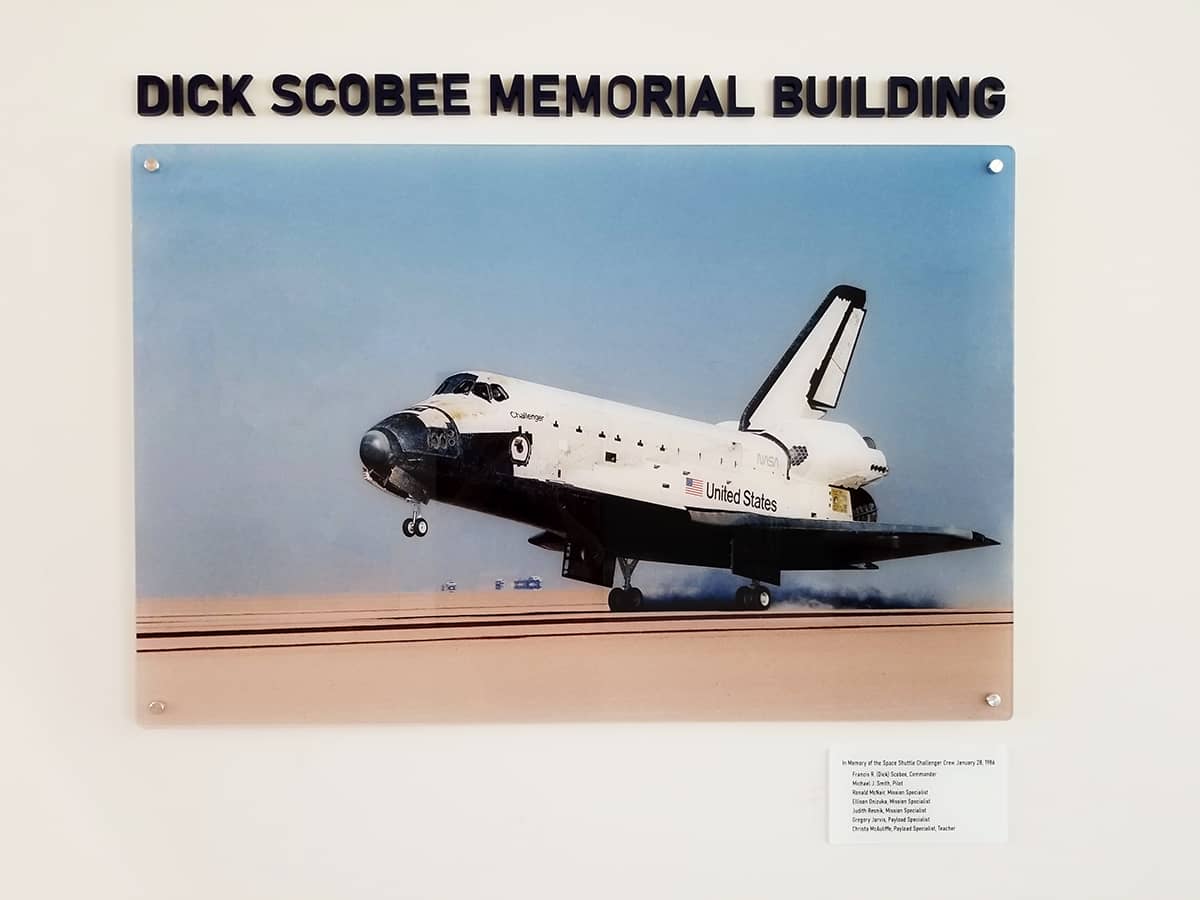 How to Honor History and Contribution
Our client, the Muroc Joint Unified School District, is a public K-12 unified school system of approximately 2,000 students in the Mojave Desert about 110 miles northeast of Los Angeles. It was founded as an elementary school in 1911 at Edwards Air Force Base. While replacing the elementary schools at the Base, the school district contacted A&I regarding ideas for interior and exterior graphic enhancements. We had completed several printing projects for the client, and they trusted in our ability to deliver. The project was to have A&I design a commemorative wall for the new elementary school.
While discussing the project with the district superintendent, he mentioned they would like to carry on the tradition of honoring Francis R (Dick) Scobee, Commander of the Challenger Space Shuttle, and the rich history at Edwards Air Force Base. One of those is that the Base served as one of three landing sites designated for space shuttles. While the prime landing site was the Shuttle Landing Facility at Kennedy Space, Edwards Air Force and White Sands Space Harbor were the other two sites.
We suggested creating a raised letter memorial statement and an acrylic graphic of the Space Shuttle Challenger. In addition, including a plaque listing all of the crew members of the final flight of the Challenger. All elements combined would become the dedicated memorial wall. It would educate students and future generations about the significant event, the people involved, and a part of the Base's history. A&I is honored to be a part of creating this unique project.
The Project
We printed the Challenger Shuttle photo on the back of a piece of clear acrylic and drilled mounting holes to use aluminum stand-offs to raise the display away from the wall. The backside was laminated to protect the photo image against time and the elements. The raised letters were injection molding PVC installed with double-stick tape. Printing on 3MM frosted acrylic and attaching the name plaque with double-sided tape was used.
Advantage of Acrylic Displays and Signage
Acrylic signs are excellent choices for a simple yet beautiful look to enhance any graphic, art, or photos for office, business, schools, or any professional setting. Popular signage where acrylic is often utilized includes internal signs, artwork, logo graphics, building directories, room plaques, dental and doctor office waiting room directional signage, hotels, restaurants, and other usages. Unlike glass signs, acrylic signs are shatter-resistant and safe for all environments. Acrylic gives you a high-quality glass look without the greater risk of breakage. It is lightweight and long-lasting, giving you a good return on your investment for many years to come while beautifying the space around it.