Health and Safety Awareness Signs
Health and Wellness Signs for Smoke-Free Awareness in Schools and Construction Site Safety Awareness Banners
Client
:
San Bernardino County Superintendent of Schools

McCarthy Building Industries
Product Highlight
:
San Bernardino County Superintendent of Schools | 

Custom signs using the versatile and durable "MAX METAL" aluminum composite material.

McCarthy Building Industries | Job site safety message on 13 oz vinyl banner material
Project
:
Health and wellness signs for Smoke-Free Awareness in schools & Construction site Safety Awareness banners
Health and Safety Signs in Schools

Health and safety have always been an essential part of schools and business environments, and the pandemic reminded us more than ever how crucial it remains. As California works on finalizing guidelines to allow all schools to reopen by this fall for full in-person learning, schools are gearing up to welcome students back as soon as August 2021. School districts' preparation will need directional signage, COVID compliant signs, banners, and beautification. A&I sales team decided to ask, "What do you need?" and "Look what we can do!" It all sometimes starts as a simple "show and tell."
Our client, the San Bernardino County Superintendent of Schools, and their Mission Statement have always made an impression. It reads: "…to transform lives through education. Working in collaboration with school districts, other agencies, families, and community partners, we provide leadership, advocacy, and services to ensure innovative, inspiring educational practices. This endeavor is essential to the quality of life and economic vitality of our communities". Recently the school board received a grant from the government for Tobacco Awareness. Considering the health and safety of their students and staff, they reached out to A&I to see how we can help. The client wanted to create a cost-effective yet sturdy sign to be hung at several campuses to get their message across to students, faculty, and visitors of a "smoke-free" school zone.
The Material, MAXMETAL
To meet the requirements of the project, A&I presented MAXMETAL as our material of choice. This aluminum composite material comprises two pre-painted .15mm aluminum panels bonded to a solid polyethylene core. Simply put, it is like a super sturdy metal sandwich. Lighter in weight and more durable for outdoor use are some of the great qualities of this material versus MDO (medium density plywood) overlay) and solid aluminum panels
Some of the great qualities of this material are it's lighter in weight and more durable for outdoor use than both MDO (medium density overlay) plywood or solid aluminum panels. The versatility of MAXMETAL is its always ready to be flawlessly printed, painted, and great for cutting and routing.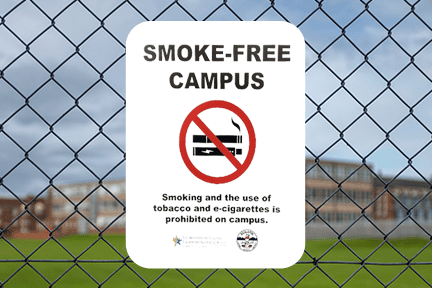 The MAXMETAL product goes through extensive industry testing. A few special ones are Toughness in Coating, Temperature Resistance, Acid/Alkali Resistance, and Oil/Solvent Resistance. One A&I especially found noteworthy, and you may too, is the cleaning test. The material is cleaned 100 times with a solvent-based cleaner and 1000 times with everyday cleaning products without causing any change to the surface. 
If you want a return on your investment with years of fade-resistant, durable, eye-catching signage, MAXMETAL may be the one to consider for your next signage printing project.
The Project – Tobacco Awareness Signage
The Tobacco Awareness signs were printed from a 4'x8' board to the clients' specifications of 9 "x12" with rounded corners. The order consisted of five hundred printed signs in English and Spanish for three different schools within the San Bernardino County Superintendent jurisdiction. A&I completed the project by labeling the wrapped and grouped signs with the various school names for direct delivery. These school locations would then display the Tobacco Awareness signs on fences and walls. 
The perfect response from our client was a note saying how much they loved the finished product!
Cost-Efficient Safety Awareness Vinyl Banners on Construction Site
McCarthy was a referral to A&I by a colleague who worked on another project with us. One of A&I's team members contacted the person in charge of safety. The representative was interested in having construction site Safety Awareness banners designed, printed, and delivered to their job site. Cost efficiency was a factor for the client. A&I suggested the usage of a vinyl banners material to meet the challenge of the project. Our HP Latex Press provided the high resolution needed to accent the safety message designed with the McCarthy logo and vivid, eye-catching colors. The 13oz vinyl banner material has excellent outdoor durability, and the latex ink provides the long-lasting fade resistance needed for the duration of the job. 
On fences and portable trailers are where these Safety Awareness signages will primarily hang. Our product team reinforced all the sides by hemming and added grommets to the banners for easy installation to finish this project. Which also allowed for quick removal with minimal effort. 
Job site safety is a significant concern for all contractors. Careless job site injuries can cost time and money. Creating and posting attention-grabbing Safety Awareness signage is one aspect and a critical part of any safety compliance program.
The Challenge is in the Details
With these types of custom order projects, challenges are in the initial design phase. It starts with carefully listening to the client and asking questions. Next comes communicating in detail with the Graphic/Color Department, who will put a sample together based on our sales team member notes and then shown for the client's approval. This process takes the longest in most cases, but after completion and everything is approved, a product can be designed, printed, and delivered.
Another challenge during the designing phase is the clients' corporate color scheme needs to be exact. It is crucial because this represents their brand and how consumers and the general public recognize them. This process can be time-consuming when A&I has to design from scratch, but we know how important that detail is. Our color team always does a fantastic job matching everything precisely for the clients.
Ways to Use Signs and Banners
Health and Safety signs are one of the primary means of communicating awareness, not just for schools and construction sites, but workplaces, buildings, offices, stadiums, amusement parks, streets, and stores. Signs provide information and warnings about safety hazards. They provide directions, give information, train, provide reminders, and store operating hours. Signs can highlight the entrance and exit routes, provide guidelines when operating machinery, tell us where to park, even how to avoid a ticket! Signs can help us recognize or identify a place of business, a favorite brand, help a store owner welcome customers, and build brand recognition.
Banners can be a temporary way to tell customers you are open for business, having a sale, moving, or announcing something wonderful like a wedding or a baby coming. Banners are durable, easy to hang, roll up and store away, and very eye-catching. Do not forget banners when you are having a party or having a sale, craft shows, dog adoptions, birthday parties, garage sales, school clubs can use a sign or banner for fundraising, and so much more! The usage of signs and banners is only limited to your imagination, and it is endless.
Quite simply, Banners and Signs are an essential part of our lives. It is how we communicate. What will you be saying…on a Sign or Banner?
With an array of materials to choose from, A&I can help you pick the right one for your next printing project.