ADA Compliant Braille Signs
Brief History of Braille
Braille is the most popular tactile reading and writing system in the world. Named for its creator, Louis Braille, it uses a combination of raised dots to spell out letters and punctuation. Around the world, people who are blind read braille with their fingertips and can also use devices to write, but that's not the whole story about braille.
Louis Braille, a Frenchman, lost his sight because of a childhood accident when he was very young. In 1824, at the age of fifteen, he developed the braille code based on the French Tactile Military Code called "night writing" created by Charles Barbier in response to Napoleon's demand for a means where soldiers could communicate silently at night. Barbier's system consisted of sets of 12 embossed dots that encoded 36 sounds but proved too difficult for soldiers to recognize by touch, and eventually, the military rejected it. 
In 1821 Barbier visited the Royal Institute for the Blind in Paris and met Louis Braille. Braille identified three significant issues with the system. First, the code was made up of phonetic sounds and not the alphabet; thus, the code could not render the orthography of the words. Second, the 12-dot symbols could not easily fit beneath the pad of the reading finger, and third, they did not contain symbols for numbers or punctuation. 
The first try at getting a system to work looked much like a short-hand form. France adopted Braille as the official communication system for the blind in 1854, a year after Louis passed away of tuberculosis at the age of 42. Originally introduced to Britain in 1861, Braille was adapted to the English language in 1902. It became the official means of communicating for blind people in 1918. Today, there are braille codes for over 133 languages.
ADA (

Americans with Disabilities Act)

 Law
ADA became law in 1990 by President George H. W. Bush but has since been amended. President George W. Bush signed the new amendment in 2008, called the ADAAA (Americans with Disabilities Act Amendments Act), which raises the law to a federal level, among other things. If you are a business owner, it's even more important to make sure your business is ADA compliant, including making your building accessible and navigable to individuals with disabilities. Compliant involves signage. Braille is, of course, one of the requirements. But you may be surprised to learn that not all ADA signs require braille.
According to ADA standards, braille only needs to appear on signs identifying a room, space, or area accessible to the public or just for employees. Some examples of rooms or areas that require braille are restrooms, classrooms, meeting rooms, utility rooms, and common rooms. A sign with braille makes it a tactile sign to serve the visually impaired; it needs to have raised text. Additionally, the law requires all braille is grouped in one section and always located at the bottom of the sign. ADA specifies dimensional requirements to ensure that the braille is easy and comfortable to read and, for safety, no sharp edges. These guidelines are standards to make things easier for the visually impaired. However, you would be surprised to learn only about 10% of the blind population can read braille!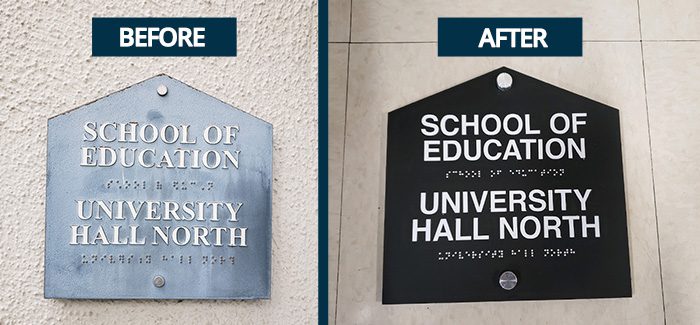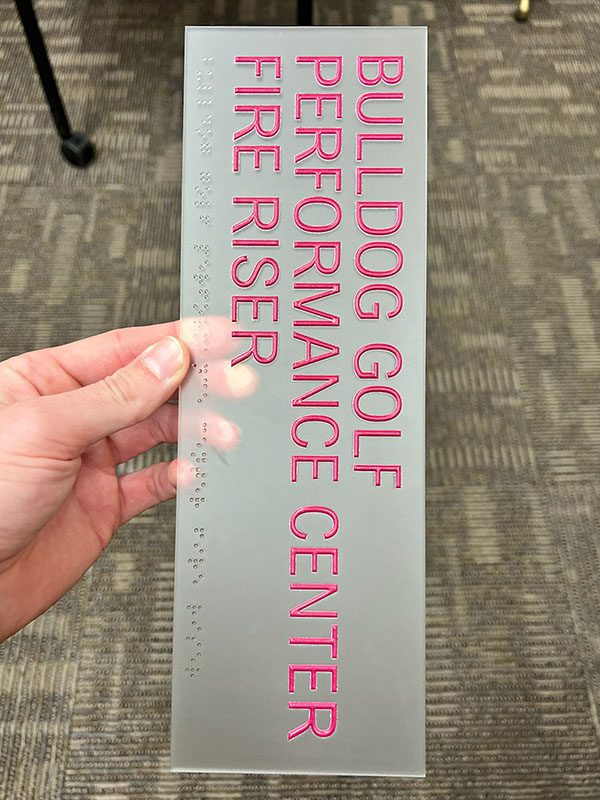 Braille signage making process and specification requirements
Braille symbols are created within units of space known as braille cells.
Six raised dots, arranged in two parallel rows with three dots each, comprise these cells. The number and position of the dots represent letters, numbers, words, and other elements such as punctuation marks.
Does braille have to be raised? Braille is almost always placed below the corresponding raised characters on signage identifying all permanent rooms or spaces. In addition, any tactile sign or braille sign shall be located on the wall, on the latch side of any single door to the room or space. When writing literature in Braille, cells can be indented. However, signs are always tactile.
ADA compliance can be complicated. Letters and braille characters on signs should be raised at least 1/32 off the sign background. The height range for raised letters and characters should be 5/8″ minimum and 2″ maximum. The sign itself should have a matte or glare-free finish. The tactile lettering and the braille dots themselves must highly contrast with the sign background to stand out clearly and boldly. There are precise measurements for each raised letter and each corresponding braille dot. Individual dot height and dot diameter, space width between individual dots, horizontal and vertical cell separation measurements are just some of the required specifics.
You might be surprised at some of the things that are in braille:
Lego Bricks
Rubik's Cubes
Tattoos
Board Games like Uno and Monopoly
ATM Keyboards
There is also an asteroid named Braille
Now, let's talk about signs. Designer ones. YES!
When you work in the interior design field, aesthetics is your priority. After all, it's your job to furnish and decorate your clients' spaces. But when hired to revamp a facility that's open to the public, you should consider more than just appearance. Considering accessibility and taking a better approach to ADA-compliant design is necessary to comply with the Americans with Disabilities Act.
Designer signs can be ADA-compliant and benefit anyone in need of attractive, cost-effective signage. These signages can be printed and fabricated to ensure a consistent look and feel across displays. They are a great choice when multiple signs are required. A&I has many sign options available, each with a different style, customized to fit any project.
Ultimately, these signs can benefit virtually any establishment, including the following:
Hotels
Senior living facilities
Hospitals
Schools
Office buildings
Banks
Shopping centers
Churches and many more…
3 things to consider on your ADA compliant signage
Getting multiple signs with a similar look doesn't have to be a challenge. Many substrates, colors, and designs would complement any décor and still be ADA compliment.
Don't waste time picking out signs that don't match or are the wrong color or material. Let A&I help you design signage that is ADA compliant and visually appealing.
It can be very complicated and costly to pay fines or do-overs when these types of signs are done incorrectly. Hopefully, you have a better idea of why it's so important to have an experienced professional printing company like A & I Reprographics. A sign company familiar with the ADA law and producing braille signage.